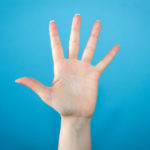 STRESS
Stress is at the root of so many physical and mental health struggles Americans deal with; and comes at a major cost to not only ourselves, but our families, communities, jobs, the health care system, and beyond.
From the obvious of anxiety, depression, and PTSD – to cancer, cardiovascular disease, and even neurodegenerative diseases like Parkinson's and dementia; the reduction or elimination of psychological stressors in our life can pay huge dividends both personally and financially.
I had the great pleasure recently of interviewing a well-known mindfulness expert who has been featured on Dr. Oz and other popular programs. Cory Muscara shared with me, and my listeners, a simple, yet highly effective technique to break the cycle of damaging stress responses in just a few short breaths.
How it's done
Hold your hand in front of you, palm side up, with elbow bent at 90°
Take the index (pointer) finger of the opposite hand and place it in the palm facing you just in front of the wrist crease
As you begin to inhale slowly and deeply, slide your finger along the course of your thumb to the tip
Follow the course of the thumb with your finger back to the wrist as you slowly exhale
Proceed as such for the pointer, middle, ring, and pinky fingers for a total of 5 breaths
Initially perform with eyes open, then try with eyes closed
What it does
Pausing to breath like this, while bringing your attention to the tactile sensation of your finger sliding on your hand, creates a few moments of mindfulness that can interrupt most any stressor and get your brain back on track. This technique creates a parasympathetic (relaxation) response that will lower your heart rate, normalize breathing patterns, and simply make you feel better!
Practice often and you will find that even thinking about it will evoke the same responses.
To listen to the full podcast with Cory, please visit www.TrainYourBrainPodcast.com – Episode #339.
For other posts on stress and stress management, click here.