3 Brain Exercises to Fight OCD Impulses – Obsessions (repetitive thoughts) and compulsions (repetitive behaviors) that significantly interfere with one's daily activities affect over 2 million American adults diagnosed with obsessive-compulsive disorder, according to the National Institutes for Mental Health (NIMH). Associated with other conditions including eating disorders, tic disorders (i.e. Tourette Syndrome), addictions, and phobias.
It is extremely difficult for a brain that is "stuck" on a certain behavior to be productive in any way, shape, or form. Although OCD traits are sometimes seen in "peak performers". Such as high-level athletes and CEOs, there is a point where the behaviors become the only focus of the affected individual. This, as you could well imagine, could lead to significant anxiety and distress. Essentially crippling an individual psychologically (and sometimes physically).
There are many well-known interventions for OCD and its associated disorders including medications (typically antidepressants and antianxiety agents). Exposure and Response Prevention (a form of Cognitive Behavioral Therapy) to desensitize individuals from their "problem" stimulus. Psychological counseling, or some combination of the above.
As the numbers of those affected continue to grow each year. More than ever and are in increasingly greater demand. Millions of Americans are now seeking therapies such as neurofeedback, transcranial magnetic stimulation, metabolic and nutritional therapies, chiropractic care, and acupuncture in hopes of decreasing, and possibly eliminating, their obsessions and compulsions.
Recent research from the Academic Medical Center in Amsterdam has demonstrated increases in the "feel good" neurotransmitter dopamine in the brains of those with OCD. Also singled out over the years is a decrease in Serotonin levels; which has a negative impact on mood, memory, and learning. Chemical regulation and improvements in the underlying "wiring" of pathways in the brain through Brain Training must be addressed to increase the effectiveness of the more common approaches to OCD mentioned above. Improvement in chemical regulation and brain "wiring" can occur safely and quite cost-effectively through a number of approaches.
Very likely more effective than the standard interventions for OCD.
Exercise. Physical exercise has been hailing by some of the leading scientists as the greatest medication on the planet. In his groundbreaking book Spark, Dr. John Ratey of Harvard Medical School discusses the impact of certain types of exercise on specific brain chemicals. Exercise also helps to strengthen nerve connections, create new nerve cells, and improve fuel delivery to the brain.
Meditation/Relaxation. Mindful meditation, breathing exercises, progressive relaxation, guided imagery, biofeedback. Many other relaxation techniques empower individuals with the ability to take the focus off of their problem thoughts and behaviors. While engaging them in more productive behaviors. This can have a profound impact on brain chemicals and body systems as with exercise.
Interactive Metronome.  A bit more on the hi-tech end, training the brain's internal timing mechanisms through repetitive body movements. Made in concert with sound commands. One can begin to dramatically improve their focus, attention, and cognitive control; critical brain "wiring" factors that need to be addressing when dealing with OCD.
From training the brain systems that govern control over our impulses, to improving the chemical interactions that are involving in these systems, there is hope for those under the stranglehold of OCD. If you or a loved one is battling OCD and/or any of its associated disorders, understanding that the brain can be training and returned to a state of normalcy is the first step in beating this elusive disorder – 3 Brain Exercises to Fight OCD Impulses!
Find Out if Brain Rehabilitation Can Help
Get your questions answered and understand treatment options by one of our board-certified physicians with extensive functional neurology experience.
Consultations are free, 15-minute phone calls, scheduled Monday through Friday.
The Obesity and Disability Connection Disability and obesity are often considered two separate ...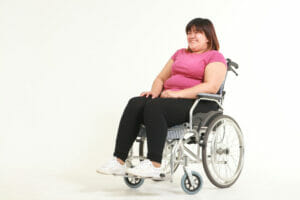 The Obesity and Disability Connection Disability and obesity are often considered two separate issues, but they are actually ...
Schedule a free, confidential consultation with one of our board-certified physicians.