What is hyperbaric oxygen therapy?
One of the most versatile therapies ever developed, hyperbaric oxygen therapy (HBOT) utilizes pressurized chambers with supplemental oxygen to create an environment where more oxygen can be compressed into body fluids, cells, and tissues.
More oxygen delivered to the body and brain under pressure can have profound impacts on one's health as demonstrated in the research over the past several decades in many areas of the health sciences.
And, HBOT has even been shown to positively impact genetic expression; which holds great promise for many conditions once thought untreatable!
The health benefits of HBOT
Improved mitochondrial function (increased energy)
Decreased inflammation
Enhanced immune response
Formation of new blood vessels (angiogenesis/neovascularization)
Stimulation of stem cells
Accelerated injury healing/recovery
Positive impacts on genetic expression, and more
Conditions that have been shown to benefit from HBOT
Brain injury (traumatic and acquired)
Cognitive impairment and dementia
Neurodegenerative disorders (Parkinson's, MS, etc.)
Addiction
Seizures
Inflammatory and infectious disorders
Autoimmune conditions
Migraines, and more
How it's done
There's really not much to it!
We utilize the highest quality, American made soft chambers from Oxyhealth to provide a reliable and comfortable experience for all. Our chambers are rated to 1.3 ATA; the ideal pressure, and one that will not cause potential side effects caused by higher pressure chambers, for the conditions outlined above.
HBOT "dives" are approximately 1 hour in length. Users wear a nasal canula or mask to deliver the oxygen while lying comfortably on the bed inside. There is a large window to provide sight outside the chamber, as well as ambient light inside, decreasing any challenges one may have with being inside a closed chamber.
Portable devices such as smartphones and tablets, as well as books and certain neurological rehabilitation tools can be used while in the chamber. Although, most simply choose to nap!
Most programs range from 10-40 dives, depending on the nature and severity of the condition.
To learn more about HBOT and its far-reaching benefits for human health, healing, and performance; call us today at 828.708.5274 to set up a free consultation with one of the doctors.
Find Out if Brain Rehabilitation Can Help
Get your questions answered and understand treatment options by one of our board-certified physicians with extensive functional neurology experience.
Consultations are free, 15-minute phone calls, scheduled Monday through Friday.
The Obesity and Disability Connection Disability and obesity are often considered two separate ...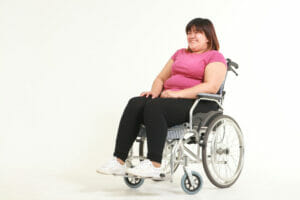 The Obesity and Disability Connection Disability and obesity are often considered two separate issues, but they are actually ...
Schedule a free, confidential consultation with one of our board-certified physicians.