What is the Neuro Sensorimotor Integrator?
The Neuro Sensorimotor Integrator (NSI), as its name implies, integrates sensory information going to the brain with motor and cognitive output coming from it.
Our brain receives constant sensory input from the five senses: touch, vision, sound, smell, and taste.
In addition, there are two sensory systems (senses) that feed our brain valuable information about where we are relative to our surroundings. These are the vestibular (balance) and proprioceptive (body position) systems.
The NSI is just one of the many tools we utilize to rehabilitate these sensory systems.
When the brain is fed inappropriate sensory information, it cannot create appropriate or desired motor output.  can manifest as behavioral problems, difficulties with coordination or attention, #learningdisorders; as well as decreased motor speed. We work on the #brainbodyconnection.
NSI can help with:
Traumatic and acquired brain injury
Spinal cord injuries
Cognitive impairment/Dementia
Movement and balance disorders
Neurodegenerative disorders
ADHD/OCD/Learning and behavioral disorders
Anxiety
Athletic performance
Common training procedures used with NSI:
Eye Hand Coordination (reaction time, movement precision, attention, and focus)
Saccades (rapid eye movements)
Tachistoscope (word recognition speed, sequencing, memory, and attention)
Optokinetics (reflexive eye movements)
Balance targeting (integration of visual, postural, and vestibular systems)
Find Out if Brain Rehabilitation Can Help
Get your questions answered and understand treatment options by one of our board-certified physicians with extensive functional neurology experience.
Consultations are free, 15-minute phone calls, scheduled Monday through Friday.
The Obesity and Disability Connection Disability and obesity are often considered two separate ...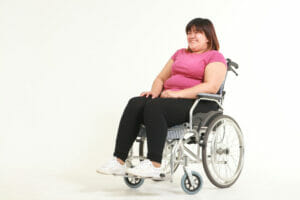 The Obesity and Disability Connection Disability and obesity are often considered two separate issues, but they are actually ...
Schedule a free, confidential consultation with one of our board-certified physicians.