Light Therapy, Defined
Photo-bio-modulation: The ability to influence cellular, body, and brain health using concentrated sources of light. More specifically, low-level laser therapy (LLLT) or cold lasers.
How LLLT Works
In a nutshell: Photons (particles of light energy) are absorbed by specific light receptors in our cells (photoreceptors), triggering chemical alterations and biochemical, physical, and neurological benefits to the human brain and body. This is done by safely passing concentrated, high energy beams of light through the skin from sophisticated diodes; or laser light generators. These diodes can be positioned easily on nearly any part of the body and programmed for specific health needs.
Think of all the benefits of being out in the sun; although concentrated and without the dangers of over-exposure. Low-level lasers are "cold", meaning they are at a highly specific light frequency and power that does not produce heat and cause potential harm to body tissues. This, while providing the 'gift of life' that light possesses for all living things on our planet.
What Does LLLT Do?
For decades, low-level lasers have been shown to have a positive impact on the following:
Recovery from brain injury and concussion
Metabolic activity and energy production within brain and body cells
Neuroplasticity and neurogenesis (production of new brain cells)
Memory, learning and mood
Inflammation reduction
Blood flow and oxygenation with tissue repair and regeneration
Cell signaling and communication
Antioxidant production and removal of waste products from cells
Chronic pain and lowered dependence on prescription drugs
Immune function
While the list of benefits continues to grow, it is important to understand that low-level lasers are extremely safe and effective for a wide variety of health conditions. *(a sampling of relevant papers and articles follows below).
Who Benefits from LLLT?
Just as the list of positive impacts with LLLT grows through mounting scientific evidence; so does the list of conditions that can benefit from LLLT. Conditions including, but not limited to:
Disorders of development, learning and behavior (including ADHD and autism)
PTSD and SAD
Neurodegenerative diseases (i.e. Parkinson's, multiple sclerosis, etc.)
Insomnia
Tinnitus
Head and face pain
Pain syndromes requiring opiate or other pain medication interventions
Of extremely important note is the increasing number of athletes, scholars, and other individuals utilizing LLLT for optimal (peak) performance, injury prevention, cognitive enhancement, and other pro-active brain and body health strategies.
How Long, How Much?
LLLT sessions can range from 5-45 minutes, with an average of approximately 15 minutes per session (per area). In most cases, multiple sessions can be performed daily, with breaks in-between. Intensive therapy is preferred in most cases and one can receive as many as 10 or more sessions in a 5-day period without side effects to maximize the therapeutic benefits of light therapy. The duration of LLLT intervention can vary significantly from person to person depending on the severity of condition/s, number of areas being treated, response to care, etc. A trial course of 10 sessions, preceded by neurological screening evaluation, is recommended at minimum. This would be followed by assessment of progress and determination of future care. Average number of sessions across all cases is approximately 15 sessions; although many choose to continue maintenance LLLT sessions for continued benefit.
How do I Learn More About Low-Level Laser Therapy?
APEX now offers the latest technology in low-level laser therapy (LLLT) for a range of health care needs. The addition of Erchonia's FX 635 to our intensive programming options allows for more efficient neurological rehabilitation and enhanced recovery time in many cases from the conditions outlined above. If you or a loved one is struggling with any of the challenges, do not wait any longer to find relief. Call us for a free consultation now at 828.708.5274 to learn if LLLT or any of our other safe and effective, non-pharmaceutical interventions may be right for you.
Find Out if Brain Rehabilitation Can Help
Get your questions answered and understand treatment options by one of our board-certified physicians with extensive functional neurology experience.
Consultations are free, 15-minute phone calls, scheduled Monday through Friday.
The Obesity and Disability Connection Disability and obesity are often considered two separate ...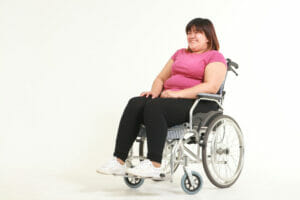 The Obesity and Disability Connection Disability and obesity are often considered two separate issues, but they are actually ...
Schedule a free, confidential consultation with one of our board-certified physicians.