It's All About Resources
Every March, Brain Injury Awareness Month, led by the Brain Injury Association of America, kicks into high gear to educate the public on this major public health crisis. From concussion and mild traumatic brain injury (mTBI) to severe brain injury and stroke; all of these conditions have a far-reaching impact. An impact on the individual who has suffered the injury, families and caregivers, communities, and our ever-burdened health care system.
The greatest challenge for those affected by these unfortunate, and often preventable, events is access to resources. This, while being told by so many (including their doctors and family) that there is not much hope for further recovery.
Where to Look For Answers
What follows are links to a host of resources exploring many aspects of brain injury. Content related to understanding why so many continue to experience the symptoms they do. Some resources will explain symptoms in detail and why they occur, and others will look into what tests you can have done to determine what path of treatment is best for you. Most importantly, these resources demonstrate a clear message of hope for so many to get beyond their daily struggles. Be sure to watch the videos of those who have done just that!
We understand that those who have injured their brain digest information in different ways, therefore the content is made available in written (blog), audio (podcast), and video formats. Please enjoy, learn something, act on something; and pass the Brain Injury Awareness word on to others who can benefit and renew their hope.
Brain Injury Awareness Links
Find Out if Brain Rehabilitation Can Help
Get your questions answered and understand treatment options by one of our board-certified physicians with extensive functional neurology experience.
Consultations are free, 15-minute phone calls, scheduled Monday through Friday.
The Obesity and Disability Connection Disability and obesity are often considered two separate ...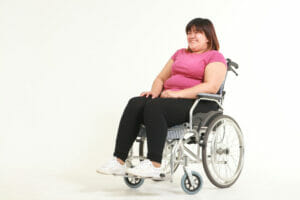 The Obesity and Disability Connection Disability and obesity are often considered two separate issues, but they are actually ...
Schedule a free, confidential consultation with one of our board-certified physicians.