Why Good Balance is Important for Brain Health – You may often ask yourself, "Does my ability to maintain a healthy balance have anything to do with how well I think, remember, and solve problems?" Well, maybe that exact thought (or anything close to it) has never actually crossed your mind, but it very well should!
The Benefits (and Consequences) of Bipedalism
Our ability to stand on two legs is nothing short of remarkable. Becoming bipedal is possibly our greatest feat as human beings. Balancing on the stilts we call legs requires a tremendous amount of brainpower. And walking, that's an even greater accomplishment! Then why isn't everyone talking about this? While standing, and even more so while walking, we are constantly in a state of falling. Think about this, when someone's brain is "offline" due to alcohol consumption, disease, or simply waking up from deep sleep.
Our brain requires constant and precise input from the many sensory receptors located in our eyes, inner ears (vestibular system). Any damage to these systems, or changes in our brain's control over these systems, will lead to measurable changes. It works both ways.
The Connection Between Balance and Cognition
Bipedal locomotion (walking on two legs) has long been associating with our larger and more complex human brains. From our early ancestors' rudimentary tool-making abilities to our descendants' possibilities of inhabiting other planets in the future (for better or for worse), only humans are capable of generating the cognitive power to do such things. As much as I love my dogs, I cannot see them ever being able to sit and type an article as I sit to type this one (that is, at least while they remain on four legs)!
Over the past several decades, research has been accumulating to support the fact that our ability moves through our environment.. A groundbreaking paper published in the Journal of Vestibular Research, Does Vestibular Damage Cause Cognitive Dysfunction in Humans, demonstrates that the degree of damage to the vestibular system is directly correlated to changes in the hippocampus, which is a key component of memory and higher cognitive function.
A more recent paper published in the journal Stroke entitled Association of Postural Instability With Asymptomatic Cerebrovascular Damage and Cognitive Decline discusses the irrefutable link between poor balance, cognitive decline, and small blood vessel disease in the brain. Subjects that had a reduced ability to stand on one leg were clearly showing to have lower cognitive functions. The lead author of this study urged that those with postural instability (impaired balance) should receive special attention.
Noted in an article entitled Poor Balance Tied to Small-Vessel Disease, Cognitive Decline by Pauline Anderson on Medscape referencing the above-mentioned paper was the simple neurological observation of people's ability to "rise, stand and walk" as "the single most important part of the entire neurologic examination." This was quoted by Dr. Jose Biller from Loyola University's Department of Neurology. As with any general observation test, if someone is unable to "rise, stand and walk" clearly moderate to advanced stages.
Dynamic posturography, or computerized assessment of postural systems, is the gold standard for measuring such abnormalities. Testing of eye movements with videonystagmography (VNG) and neurological evaluation of muscles and joints will help determine if the associated.
Please read my blog The Importance of Early Screening for Alzheimer's, Dementia, and Cognitive Decline to find a more comprehensive list of physical tests that can be performed.
What to Do if You Are Having Balance Problems
With early detection of balance problems, you are in the driver's seat and have the full ability to act abnormalities. As with anything else in your body, (or your house, your car, etc.) the longer you wait to act.. If you have been having problems standing or walking, make an appointment with a practitioner who specializes in balance issues.
Find Out if Brain Rehabilitation Can Help
Get your questions answered and understand treatment options by one of our board-certified physicians with extensive functional neurology experience.
Consultations are free, 15-minute phone calls, scheduled Monday through Friday.
The Obesity and Disability Connection Disability and obesity are often considered two separate ...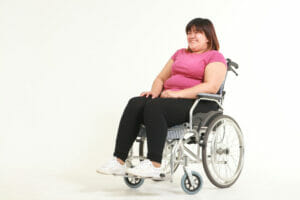 The Obesity and Disability Connection Disability and obesity are often considered two separate issues, but they are actually ...
Schedule a free, confidential consultation with one of our board-certified physicians.