How Whiplash Impacts Your Brain – Your brain can take a beating when your head gets shaken around during a whiplash injury. The effect of the head, which weighs as much as a medium-sized bowling ball, forcefully snapping your neck in various directions can cause a lot more than just neck pain and headaches. Mild traumatic brain injury (mTBI) is often not the first concern when someone experiences a whiplash injury in a car crash, sports injury, or other traumatic accident. Some examples of brain-related problems after whiplash and mTBI include:
Brain fog
Dizziness or vertigo
Sleep disturbances
Irritability
Attention, focus, and memory issues
Fear and emotional struggles
Blurred vision and more
Many of these potentially disabling whiplash symptoms can be directly related to the impact of your brain against the bony vault known as your skull, and the many sharp edges, shelves, and protrusions on its inner surface. Further, nerves that exit the brain (cranial nerves) can be tractioned, sheared, or even severed depending on the degree of whiplash. Some of these symptoms can also be related to injury to the muscles and joints in the neck that feed information that is vital to our sense of balance and equilibrium to the brain. When our equilibrium or sense of our external environment is altered, other brain systems begin to degrade as a result.
It is critically important to address the obvious physical aspects of pain, muscle spasm. And loss of motion due to whiplash through modalities such as chiropractic care and physical therapy. What is often neglecting and equally important to address is the other physical, cognitive. Emotional after-effects of mTBI due to whiplash. The following is a list of potential testing procedures. Assessments you should seek out in the event of a whiplash injury leading to any of the above-mentioned symptoms:
Head to toe neurological evaluation
Testing of balance with computerized dynamic posturography
Cognitive testing
Psychological evaluation
Remember that some symptoms may not develop until weeks after the accident. Pay special attention to the changes in your brain, or the brain of a loved one, after a whiplash accident. If you develop any symptoms that indicate mild traumatic brain injury, seek immediate attention from a functional neurologist. The quicker these brain-related whiplash symptoms are addressing, the quicker they will likely resolve. By the same token, based on the principles of neuroplasticity, the longer they are around, the more difficult they will be to resolve – How Whiplash Impacts Your Brain!
Find Out if Brain Rehabilitation Can Help
Get your questions answered and understand treatment options by one of our board-certified physicians with extensive functional neurology experience.
Consultations are free, 15-minute phone calls, scheduled Monday through Friday.
The Obesity and Disability Connection Disability and obesity are often considered two separate ...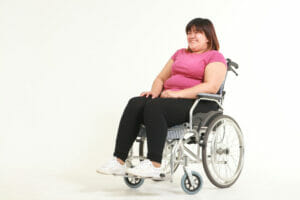 The Obesity and Disability Connection Disability and obesity are often considered two separate issues, but they are actually ...
Schedule a free, confidential consultation with one of our board-certified physicians.