Brain Training for ADD and PTSD – A young woman in her late 20s, who I will call Karen, came to our Asheville NC office in mid-2014 for adult attention deficit hyperactivity disorder (ADHD) and post-traumatic stress disorder (PTSD). Oftentimes, as with many in her situation, Furthermore a chronic lack of attention, constant distractibility, obsessive thoughts, and anxiety-related symptoms forced her long ago to seek out medications that would keep these symptoms under some sort of control. Also, as with many individuals that walk through the door at APEX Brain Centers, Karen seemed to be functioning well in her day-to-day activities and was, for all intents and purposes, quite successful. But she knew she could do better, and that she might one day be able to control her thoughts and behaviors medication-free!
The Brain Training Process
Prior to coming in for her intensive Brain Training program at APEX, Karen was required to complete a battery of baseline cognitive tests and comprehensive physical, psychological, and metabolic histories. When she arrived for her first day of training, Karen underwent a head-to-toe neurological evaluation and several hours' worth of diagnostic tests, including tests of brainwave activity (qEEG) and eye movements (VNG).
The results of these critical tests of brain function helped guide Karen's Brain Training program. And allowed us to address very specific brain regions that were causing her symptoms. Some examples of training utilized in Karen's 5-day intensive program have EEG directed neurofeedback with transcranial magnetic stimulation to assist her in regulating her brain wave activity and reducing aspects of anxiety, and the Interactive Metronome training program for improving sequencing and planning abilities within the more developed frontal lobes of her brain that helped her to significantly improve her focus and attention.
Results
When her Brain Training program was complete. We retested Karen so we could compare results and assess key functional improvements made in her brain. Below is a summary of gains she made in critical brain functions:
Gains in attention, problem-solving, and decision making as great as 76%
5 aspects of memory as great as 52%
Gains in brain processing and sequencing abilities as great as 48%
Improvement in temporal processing (brain timing) of 33%
Normalization of fast eye movements associated with the same brain regions that govern attention and focus
Positive shifts in alpha and beta brain wave activity are consistent with improved attention and focus. As well as decreased anxiety
What do all these numbers really mean? Well, to Karen these numbers mean a great deal. Immediately after completing her Brain Training program. Karen was able to perform a routine computer-related task for work. That typically took her over an hour in just 45 minutes. To a multi-tasker that has difficulty with attention, focus, and anxiety, these 20 minutes translate into an eternity! She also reported having a clearer, more focused mind, better sleep, and a general sense of calm and relaxation. That was typically not present from day to day.
What would it mean for you to have improvements like Karen made? To be able to focus and engage in life more efficiently with decreased distractions and a clear mind?
Find Out if Brain Rehabilitation Can Help
Get your questions answered and understand treatment options by one of our board-certified physicians with extensive functional neurology experience.
Consultations are free, 15-minute phone calls, scheduled Monday through Friday.
The Obesity and Disability Connection Disability and obesity are often considered two separate ...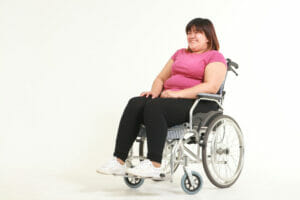 The Obesity and Disability Connection Disability and obesity are often considered two separate issues, but they are actually ...
Schedule a free, confidential consultation with one of our board-certified physicians.