3 Real Life Examples of Brain Plasticity – Brain plasticity, also known as neuroplasticity, is the brain's ability to change and grow over time in response to its environment. Changes can happen either fast or slow, and they can be positive or negative. The following examples show how Brain Training relies on neuroplasticity to benefit people who need to make positive changes. You CAN teach an old dog new tricks!
3 Real Life Examples of Recovering from Brain Trauma
BL's brain sustained a shock wave injury from an explosive device (IED) blast while serving our country in the Middle East. He later sustained a traumatic brain injury (TBI) when a car struck him. These traumas caused BL to have severe cognitive and behavioral dysfunction, most notably anger and rage issues. These issues were significantly impairing his ability to re-integrate into society and his professional civilian career. He also suffered from a condition called dysautonomia as a direct result of his head injuries. This condition forced him to consume an extraordinary amount of calories every day (nearly 10 thousand) just to maintain his weight. Through a course of Intensive Brain Training, supported with home care and nutritional therapies, BL is now gainfully employed as a licensed professional and working his way up the ladder. His rage is in check and no longer gets him into dangerous situations. He is also able to eat a typical diet (no more than 3500 calories per day) without losing an unhealthy amount of weight.
PJ is a young man who has struggled with learning and behavioral challenges his entire life. Drug and alcohol abuse compounded his problems and prematurely side-tracked him from a productive life. He quit high school just prior to graduation and found himself unable to take high school equivalency (GED) examinations. Instead of working or going to school, he spent his time in drug and alcohol rehabilitation programs. During PJs Brain Training Program with APEX, he achieved pre-test scores that allowed him to proceed with taking all parts of his GED testing and he achieved high passing grades in all subjects. He has since enrolled in our local community college and is well on his way to a productive life. His brain is now capable of focusing and attending to life's challenges!
Enhancing Cognitive Performance
BA is a young woman who suffered years of neglect and abuse as a young child. The abuse led to cognitive dysfunction and learning disabilities that prevented her from learning to read. BA's developmental disabilities have caused her, as well as her adoptive family, much emotional turmoil. Her inability to 'think things through' led to more destructive behaviors, including illegal actions. Less than one week after a 5-day Intensive Brain Training Program, BA was able to pick up a book for the first time in nearly 5 years and read cover to cover with ease and full comprehension. That is something her brain would not allow her to do previously! Her cognitive testing scores increased, including improvements that exceeded 100%, most notably in the areas of memory and attention. Furthermore, she is now showing signs of remorse for the first time for many of her past wrongdoings. Although BA is far from full recovery, she is well on her way to regaining control of her life and becoming a productive, contributing member of her community – 3 Real Life Examples of Brain Plasticity!
Find Out if Brain Rehabilitation Can Help
Get your questions answered and understand treatment options by one of our board-certified physicians with extensive functional neurology experience.
Consultations are free, 15-minute phone calls, scheduled Monday through Friday.
The Obesity and Disability Connection Disability and obesity are often considered two separate ...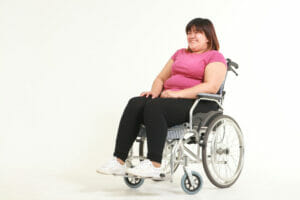 The Obesity and Disability Connection Disability and obesity are often considered two separate issues, but they are actually ...
Schedule a free, confidential consultation with one of our board-certified physicians.