Eat a good breakfast the morning of a test. Get a full night's sleep. Study. Don't cram. Make flashcards. Take practice exams. Write practice essays. Do these test preparation tips and strategies sound familiar? Practically any study guide will repeat these same suggestions. It's good advice, but there are additional ways to achieve higher test scores or better academic performance, and there are likely neurological underpinnings that are preventing you from effectively following this simple advice.
Brain Training for test preparation can help a student prepare for exams by improving mental skills:
Boost memory
Enhance focus and lengthen attention span
Increase mental processing speed (the rate at which you think and make decisions)
No matter what type of exam you are preparing for: GMAT, LSAT, MCAT, SAT, ACT, GRE, GED or state bar, you can give yourself the highest chance of success by training your brain for peak performance.
The Relationship Between Timing in the Brain and Academic Performance
Your test performance abilities are determined in part by the timing of all the processes that go on in your brain. The faster your brain can absorb and process information the better you'll perform mentally and physically.
Interactive Metronome is a brain training tool we use to help clients improve test scores. IM training feels like playing a game. You hear a rhythmic tone, and see real-time feedback on a computer screen that directs you in how to perform a physical action in time with the beat, such as clapping your hands. You get immediate feedback on your performance down to the millisecond so you can continually improve as you proceed through the training.
How IM Training Helps Improve Test Scores
IM challenges your brain to quickly process and respond to auditory and visual cues. As you practice and improve your timing, your brain grows new connections and improves the efficiency of existing ones. That new brain growth and development will help you get faster and better at processing information, so you can see improvements in your ability to pay attention, learn, and communicate. Higher test scores are only one of the positive changes you can see after completing IM training.
Research into Interactive Metronome and Academic Performance
Scientific studies into the timing of the brain and IM training support the connection between IM and improved academic performance. Furthermore, A 2011 study published by Jamshid Damooei, Ph.D. measured changes in academic performance of California elementary and middle school students who underwent Interactive Metronome training. All of the test subjects were chosen to participate because they were struggling in school. The reasons for their academic problems ranged from learning and attention disorders to autism. Moreover, the students who completed the program overwhelmingly showed improvements in a key area: the ability to focus. Reading and math comprehension, and a remarkable increase in processing speed.
If you are interested in learning more about Interactive Metronome and other brain training tools and strategies that can help you improve your test scores contact the APEX admissions department.
Find Out if Brain Rehabilitation Can Help
Get your questions answered and understand treatment options by one of our board-certified physicians with extensive functional neurology experience.
Consultations are free, 15-minute phone calls, scheduled Monday through Friday.
The Obesity and Disability Connection Disability and obesity are often considered two separate ...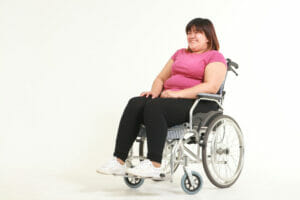 The Obesity and Disability Connection Disability and obesity are often considered two separate issues, but they are actually ...
Schedule a free, confidential consultation with one of our board-certified physicians.