4 Foods to Improve Brain Function – Your brain requires nutrients just as your body does, and adding "smart," healthy foods to your diet can help keep your brain healthy too. The following is a list of foods that improve brain function and help boost your brain power, protect cognitive performance during aging, and generally help you feel your best.
1. Fruits and Veggies
When it comes to foods that improve brain function, whole foods like fruits and veggies power your brain much more efficiently than processed foods. Superfruits like blueberries have been shown to help improve or delay short-term memory loss and may reduce the effects of Alzheimer's disease or dementia. Broccoli is another superfood with nutrients that protect against free radicals and heavy metals that can damage the brain. Spinach is a good source of folate and vitamins A and E. This can help slow the effects of aging on the brain. Tomatoes contain lycopene which is a powerful antioxidant showing to help improve mood and combat dementia.
2. Healthy Fats
Omega 3s are heart-healthy and promote good circulation and blood flow which is beneficial for your brain. Salmon is a common source of omega 3s. Which have been shown to support brain structure and function and can offer protection against dementia, cancer, and arthritis. Coconut oils contain fatty acids which have positive effects on brain function and can help protect against age-related memory loss. Avocados are another example of foods that improve brain function and are a rich source of healthy monounsaturated fat. Which contributes to healthy blood flow and can help lower blood pressure.
3. Nuts and Seeds
Nuts and seeds are examples of foods that improve brain function in a small but powerful package and they're high in vitamin E, which has been shown to protect against cognitive decline with aging. Pumpkin seeds and sunflowers seeds are rich in protein, omega fatty acids, and B vitamins, and they contain tryptophan, which can help combat depression and allow for improved sleep. Walnuts and almonds are good for the nervous system as well as the brain and are great sources of omega 3 and omega 6 fatty acids. Chia seeds are also packed with omega 3 fatty acids and are a good source of dietary fiber and a cholesterol-free source of protein.
4. Whole Grains
Brown rice, quinoa, and wheat berries are all examples of heart-healthy whole grains that promote cardiovascular health. In studies of foods that improve brain function. Whole grains have been shown to be beneficial for protecting against stroke, diabetes, heart disease, and asthma. Bulgar is a nutty-tasting grain that's prized for its anti-inflammatory properties. Due to its betaine content, and it's also high in fiber. Which can help decrease the risk of gallstones and some types of cancer. Of all the whole grains, barley has the highest fiber content, plus its loading with antioxidants, minerals, and vitamins. Can help reduce blood pressure.
Looking to boost your brain power with proper nutrients? Find out more about metabolic and nutritional therapy at APEX to help you achieve optimal health for your brain, and your body, in a real, sustainable way. Proper nutrients are critical for brain health, and because no two brains are alike. We can evaluate which nutrients are most appropriate for you and your needs. To help your brain perform at its absolute best. 4 Foods to Improve Brain Function!
Find Out if Brain Rehabilitation Can Help
Get your questions answered and understand treatment options by one of our board-certified physicians with extensive functional neurology experience.
Consultations are free, 15-minute phone calls, scheduled Monday through Friday.
The Obesity and Disability Connection Disability and obesity are often considered two separate ...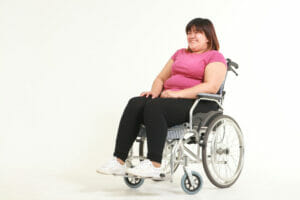 The Obesity and Disability Connection Disability and obesity are often considered two separate issues, but they are actually ...
Schedule a free, confidential consultation with one of our board-certified physicians.