How to Prevent Dementia and Alzheimer's Related Memory Loss – There are many types of dementia, some of which are preventable and others that are not. Conditions that are considered genetically driven, such as Alzheimer's, Parkinson's, and brain tumors, lead to degeneration and loss of nerve connections and cells within the brain that result in the decline in cognitive abilities such as memory, reasoning and problem solving. But no matter the cause there are ways to slow the rate of dementia and Alzheimer's related memory loss. The key is acting early. Most types of dementia are progressive. The earlier you seek help the more successful you will be at preventing memory loss.
Even in the case of Alzheimer's disease, thought by most to be completely incurable, evidence suggests that the progression of the disease is impacted by factors within our control, most notably the proper control of our blood sugar levels. Finding the cause of memory loss can help you and your health care providers determine the best means of preventing further memory decline. Certain types of depression lead to 'pseudo-dementia', which can be treating with great success. Even age-related memory loss can be impacting quite successfully with the appropriate nutritional, exercise, stress management and Brain Training methods.
Recognizing Early Signs of Dementia and Alzheimer's
If you recognize the early signs of Alzheimer's disease and dementia you can be proactive in preventing memory loss. If you or someone you know is struggling to find the right words, regularly misplacing common everyday items, overreacting (or underreacting) to situations, getting lost in familiar surroundings, or having extreme difficulty with simple tasks such as balancing the checkbook, dementia, or Alzheimer's disease may be suspected. Disinterest in formerly pleasurable activities and a decrease in the sense of smell are also telltale signs that one's brain function may be declining. Helping those with memory loss as soon as possible.
How to Prevent Dementia  & Memory Loss through Brain Training
APEX offers Brain Training for memory loss prevention. We understand the mechanisms of memory loss well and use specific diagnostic and training procedures to help anyone, even those with dementia, to Build a Better Brain. Through brain mapping, cognitive testing and other brain assessments, we design a Brain Training program customized to help you retain your memory, or possibly even improve it. Furthermore, Brain Training for memory loss may include neurofeedback, transcranial magnetic stimulation, Interactive Metronome training. Specific brain and body exercises and nutritional support, among many other modalities.
Foods and Supplements to Support Memory Retention
To support a healthy brain and memory, it is good practice to avoid processed and refined foods. Minding your calorie intake is critical. A great first step is to develop an 'eat to live' philosophy instead of a 'live to eat' strategy. Eating a sensible diet of real, live, or whole foods is logical. The first step towards Building a Better Brain and preventing memory loss.
The lists of brain foods or 'superfoods' that are reputed to prevent memory loss are long. One needs to exercise caution when claims for products or foods are seemingly too good. To be true and some simple advice will go a long way towards eating for a healthy brain.
Also consider a full metabolic and nutritional assessment to see if dietary changes can help you see improvement in your memory, or in other areas of health.
Exercise for Brain Health
Memory loss prevention is only one of the reasons that exercise is good for our brains. Exercise encourages new nerve cell growth in parts of the brain that facilitate memory and learning. Also improves blood supply and fuel delivery to already existing brain pathways and regions. Exercise simply makes us smarter and is considering by many to be the best memory loss treatment on the market.  How to Prevent Dementia and Alzheimer's Related Memory Loss!
Find Out if Brain Rehabilitation Can Help
Get your questions answered and understand treatment options by one of our board-certified physicians with extensive functional neurology experience.
Consultations are free, 15-minute phone calls, scheduled Monday through Friday.
The Obesity and Disability Connection Disability and obesity are often considered two separate ...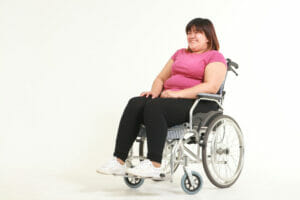 The Obesity and Disability Connection Disability and obesity are often considered two separate issues, but they are actually ...
Schedule a free, confidential consultation with one of our board-certified physicians.