Fear and Worry – the two most damaging emotions
Everywhere we turn these days it is impossible to avoid talk or news about coronavirus. There is hardly an individual alive that is not reminded countless times daily of what has been controlling most of our lives for the past months – FEAR and WORRY!
24/7 news cycles talking about nothing other than COVID-19, lost or altered employment, kids at home, everyone wearing masks at the store (or not wearing them), yearning for human contact or eating out at your favorite restaurant, dwindling bank accounts, and the toll on human life are all constant reminders of how our lives are very different than they used to be.
And, now there is constant talk about what's next: phased "re-opening", more limits on human contact, the next wave of sickness and casualties, and further uncertainty about our children's education and our financial well-being.
What we CAN control
How does one handle it all??? Will it ever go back to "normal"???
I'd be lying if I said I knew. But I DO know the one thing we have control over that is the most important factor in this COVID-19 equation with regard to our health and well-being… How we respond to it!
In his landmark memoir, Man's Search for Meaning, Austrian psychiatrist Viktor Frankl wrote of his experiences in Nazi concentration camps during WWII. He observed how some were able to overcome adversity and survive in the harshest of circumstances through finding meaning and purpose in their lives; and how others perished having been continuously overcome with fear and worry at the hands of their captors.
According to many experts, fear is involuntary and worry the opposite; voluntary (a choice). And it can be a very damaging choice! Fear can be thrust upon us by captors, a virus, or overdue bills. How we respond to the fear is largely what determines our outcomes, both psychologically AND physically.
What we CAN do
Here are some basic tips to neutralize worry:
Write down your worries. They have less power over you on paper than they do in your head.
Create a gratitude list. Focus on positives replaces worry over negatives.
Turn off the TV. Be informed, but not over-informed.
Realize that most of what you worry about will never come true. This is a fact!
Consider brain training. Sometimes a deeper dive is necessary.
Be well, and control your thoughts and responses – it may very well save your life.
Find Out if Brain Rehabilitation Can Help
Get your questions answered and understand treatment options by one of our board-certified physicians with extensive functional neurology experience.
Consultations are free, 15-minute phone calls, scheduled Monday through Friday.
The Obesity and Disability Connection Disability and obesity are often considered two separate ...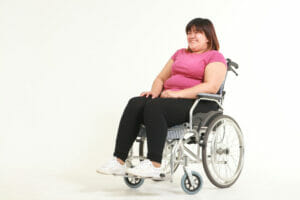 The Obesity and Disability Connection Disability and obesity are often considered two separate issues, but they are actually ...
Schedule a free, confidential consultation with one of our board-certified physicians.