The Rising Impact of ADHD and ADD in North Carolina
The Rising Impact of ADHD and ADD in North Carolina – According to the Centers for Disease Control and Prevention (CDC), between 2003 and 2011 the percentage of American youth ages 4-17 diagnosed with ADHD rose from 7.8% to 11%. The rate of medication usage among those diagnosed rose along the same continuum. For North Carolinians, what is even more alarming is the fact that our own state's rates of ADHD and ADD. Diagnosis have been rising even higher than the national average. In 2011 the CDC's National Survey of Children's Health found that 14.4% of NC children were reported to have received a diagnosis of ADD or ADHD. In past years, North Carolina has had the highest rates in the nation of ADD/ADHD diagnosis and/or medication usage. These numbers do not account for the millions of children struggling with attention, focus, and concentration.
While there is no specific data for the incidence of ADD and ADHD in Asheville, NC, we are certain that it is very likely at or above the current conservative estimates delivered by the CDC. At our office in Asheville, there is certainly no shortage of adolescents and adults walking through our doors looking for Brain Training to improve their focus and attention.
While there are many theories regarding the ever-increasing diagnosis of this troublesome and costly neurodevelopmental disorder (in 2005 the CDC estimated the annual cost of treating ADHD to be between $36 and $52 billion), it is safe to say that it is here to stay. Both nationally and right here in Asheville, North Carolina, more needs to be done from an educational and interventional perspective to help reduce the impact of ADD and ADHD on our kids and our communities. Educating those in greatest contact with our children, including their teachers and counselors, about Brain Training and other progressive modalities to avoid costly and sometimes dangerous interventions should be of the highest priority if we are to turn the tide on these startling statistics.
As these are neurodevelopmental disorders and not organic pathologies (i.e. cancer, infection, etc.). Medications very often may not be the best option for individuals plagued by the effects of poor attention and focus. There is certainly a time and place for all types of medical and non-medical interventions. But history shows that increased medication usage has not lowered the incidence of this disorder. A trip "back to the old drawing board" is necessary if we want to buck the current trends. Analyzing our children's brains with cutting-edge technology like quantitative EEG and videonystagmography (VNG). Among many other progressive tests for these disorders, can lead us to the answers for non-medical treatment options. Examples of such would be neurofeedback, transcranial magnetic stimulation, Interactive Metronome therapy, and countless other types of Brain Training tools. Designed for neurological rehabilitation!
We should also reexamine our approach to ADD and ADHD. Not only for our young people but also for the adult population. Although statistics are cloudy, the diagnosis of adult ADD/ADHD is clearly on the rise as well. We now know that the systems that govern attention are often the real culprits. Many adults with ADD or ADHD. May have gone undiagnosed in childhood because these were not "priority" diagnoses when they were children.
What can you do? If you or a loved one is suffering from a disabling lack of focus or attention. Explore what Brain Training has to offer. Alternative or supplement to medication.
Find Out if Brain Rehabilitation Can Help
Get your questions answered and understand treatment options by one of our board-certified physicians with extensive functional neurology experience.
Consultations are free, 15-minute phone calls, scheduled Monday through Friday.
The Obesity and Disability Connection Disability and obesity are often considered two separate ...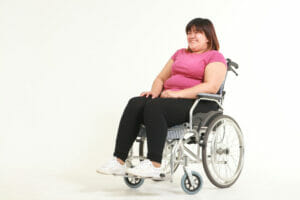 The Obesity and Disability Connection Disability and obesity are often considered two separate issues, but they are actually ...
Schedule a free, confidential consultation with one of our board-certified physicians.