What is Obsessive Compulsive Disorder? – Are you constantly driving to distraction by thoughts that fuel fear and worry in your mind? Is your brain constantly pulling you to perform behaviors that interfere with your daily routine and cause social distress? If so, Moreover you may be one of the millions in this country that are struggling with Obsessive Compulsive Disorder (OCD).
OCD is a brain-based anxiety disorder characterized by repetitive, unwanted thoughts (obsessions) and ritualized behaviors (compulsions). Furthermore, Scientific research suggests that OCD is causing by inappropriate connectivity between various brain regions. The frontal lobes and basal ganglia are the areas of the brain that many OCD researchers have focused on. Furthermore, These regions are where our higher cognitive functions, and coordination of those functions, reside.
OCD Symptoms
Obsessions can involve virtually anything someone with OCD thinks about. Fears, phobias, anxieties, and worries often lie at the heart of OCD and can fuel both obsessive thoughts and compulsions alike. Classic OCD compulsions include ordering, hoarding, grooming, counting, checking, cleaning, and more.
Treatments for OCD
Classic treatments for OCD include medications and cognitive-behavioral therapies (CBT). Medications for OCD are numerous and varied, although generally fall into the categories of antidepressant and antianxiety agents. A common approach to OCD involves managing serotonin levels through the use of SSRI medications, allowing the 'feel good' neurotransmitter to stick around longer in the brain.
More and more folks are turning towards complementary and alternative therapies for the management of OCD. APEX Brain Centers is leading the charge. Through cognitive, neurological, and metabolic testing, followed by a host of Brain Training interventions, positive changes can be made in the areas of the brain responsible for this debilitating disorder. Therefore these changes allow for greater cognitive flexibility and the ability for the individual with OCD to better control their condition.
Find Out if Brain Rehabilitation Can Help
Get your questions answered and understand treatment options by one of our board-certified physicians with extensive functional neurology experience.
Consultations are free, 15-minute phone calls, scheduled Monday through Friday.
The Obesity and Disability Connection Disability and obesity are often considered two separate ...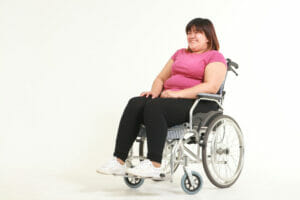 The Obesity and Disability Connection Disability and obesity are often considered two separate issues, but they are actually ...
Schedule a free, confidential consultation with one of our board-certified physicians.