The Real Reasons You're Not Passing the Exam – When you cram the night before an exam, do you ever stop to think that your brain cannot hold the mountains of information you are trying to squeeze into it? Or, that it won't be able to process what you tried learning before the big test? As amazing as they are, our brains are not wired to devour and process massive amounts of information in short periods of time. Further, for some of us, our brains are not 'wired' efficiently enough to effectively learn what we are studying.
Take the individual who pays attention in class, studies regularly in small doses, has a tutor, and seems prepared to do well on a test. He fails. His friend waits until the last possible minute, pulls an 'all-nighter' and she passes with flying colors. What gives?
Obviously, these two brains are not wiring similarly, and not just because they are male and female brains. That discussion is for another day! There are a host of reasons why your brain might not be able to process and retain information, and why you might not be able to access what you learned when you need it the most on test day. Here is a list of four common challenges to effective test preparation:
Developmental challenges – ADHD, autism, vision or hearing loss, cerebral palsy, and learning disabilities like dyslexia all impact the way one learns and can have a profound impact on test-taking ability. Oftentimes, given the right interventions, many of these disabilities can be overcome and what was once a disability now becomes a strength.
Stress and anxiety – The sheer number of tests and responsibilities faced by students today can be quite overwhelming. Even ace students can easily become stressed. Stress can lead to significant difficulty in one's ability to effectively prepare for tests or perform well on exam day. The problem of test anxiety and academic stress often compounds over time (I have seen this with my children's friends during the dreaded end-of-grade testing).
Metabolic issues – Food is fuel. Imagine trying to drive a Ferrari fueled by lawnmower gas that's been sitting in the garage for two years. When your diet consists mostly of refined and processed foods you make exam preparation much harder for yourself. You cannot expect good test performance when you tank up on lousy fuel.
Poor sleep – While you were so busy cramming for that test you forgot to do the single most important thing that will help you pass it…SLEEP!
The Real Reasons You're Not Passing the Exam – Whether you are in grade school or grad school. The vast majority of times it is not about how much you study that gets you good grades on tests. Your academic performance also depends on your level of brain function. The quality of the fuel you put in your tank, and environmental factors that are well within your control. You have the power to improve your test scores and Brain Training can help. What would it mean for you, your family, your career, even society? If you were able to improve your test performance and achieve the grades you desire?
Train your brain for better test performance. It really works!
Find Out if Brain Rehabilitation Can Help
Get your questions answered and understand treatment options by one of our board-certified physicians with extensive functional neurology experience.
Consultations are free, 15-minute phone calls, scheduled Monday through Friday.
The Obesity and Disability Connection Disability and obesity are often considered two separate ...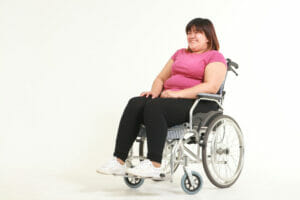 The Obesity and Disability Connection Disability and obesity are often considered two separate issues, but they are actually ...
Schedule a free, confidential consultation with one of our board-certified physicians.