Case Study: Mild Traumatic Brain Injury – Liz's Story
Case Study: Mild Traumatic Brain Injury – Liz is a 29-year-old female entrepreneur, designer, and athlete who came to APEX Brain Centers with a history of the post-concussion syndrome from previous car accidents and sport-related head injuries. She reported symptoms that are often seen in cases of mild Traumatic Brain Injury (mTBI) including brain fog, fluctuating and elevated heart rate, fatigue, incoordination, excessive emotionality, sharp head pains. Decreasing ability to think critically and effectively. Liz's symptoms have been nothing short of debilitating. Her ability to work full time at the career she loves. She was also very concerned that her future plans of having a baby and starting a family would be compromising. Due to the health risk to both her and a developing fetus.
Liz traveled from Virginia to the APEX Brain Centers office in Asheville, NC to participate in our targeted, high frequency, high-intensity Brain Training program. She began a 10-day course of Brain Training in November of 2014 with the goal of alleviating her concussion-related symptoms. With her sincere efforts and dedication to recovery, we were able to record significant measurable changes related to her symptomatology.
Intervention for mTBI
Liz underwent Brain Training 3 times per day over the course of the 10-day period. Her brain function was carefully monitoring throughout the training process to ensure she was receiving enough treatment to be effective. But not too much so as to be counter-productive. Modalities delivered included but were not limited to neurofeedback (NFB) and transcranial magnetic stimulation (rTMS), Interactive Metronome, vestibular rehabilitation, metabolic/nutritional therapies, eye movement, and other aspects of neurological rehabilitation, electrical stimulation, breathing exercises, and home care recommendations.
Outcomes after Brain Training
Subsequent to her Brain Training program, Liz reported significant subjective improvements in the vast majority of her post-concussion syndrome symptoms including fogginess and "wandering" of thought, fluctuating heart rate.  Ability to control emotions, head pain, sleep, the intensity at which she was able to exercise, balance, and levels of energy.
Actual, measurable objective improvements recorded with post-intensive diagnostic testing include:
Cognitive Testing: Improvements in 4 aspects of memory, attention, executive, and other cognitive functions ranging from 14% – 800%.
Interactive Metronome: 42% improvement and normalization of hyper-anticipatory timing tendency with motor tasks. 68% improvement in task average with motor skills. 30% improvement in overall response accuracy with motor skills.
Computerized Assessment of Postural Stability (CAPS): Elimination of mild reductions instability with balance and complete normalization of balance abilities in eyes closed scenarios.
Videonystagmography (VNG): Significant improvements in numerous aspects of oculomotor (eye movement) functionality including gaze holding, slow and fast eye movements, optokinetic responses, and spontaneous/involuntary eye movements.
Quantitative EEG (qEEG): Normalization of depressed 0-10Hz bandwidth activity.
Autonomic Testing: Stabilization of heart rate from an erratic range of 90-150 bpm, to 60-90 bpm; saving her over 30 million heartbeats per year!
With an ever-increasing number of individuals experiencing mTBI, it is important to recognize the symptoms of these oftentimes debilitating disorders. More importantly, that something can be done about them. Borrowing a phrase from the Brain Injury Association of America, Case Study: Mild Traumatic Brain Injury – Liz!
Find Out if Brain Rehabilitation Can Help
Get your questions answered and understand treatment options by one of our board-certified physicians with extensive functional neurology experience.
Consultations are free, 15-minute phone calls, scheduled Monday through Friday.
The Obesity and Disability Connection Disability and obesity are often considered two separate ...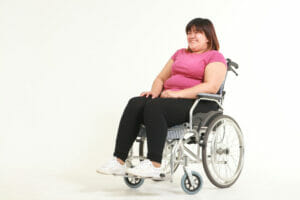 The Obesity and Disability Connection Disability and obesity are often considered two separate issues, but they are actually ...
Schedule a free, confidential consultation with one of our board-certified physicians.