A (Sometimes) Long and Winding Road
Recovery from any type of addiction can be a monumental task. Even for those ready to take it on, the road can be a painful one loading with many obstacles. One that will ultimately pay off with better health, better relationships, and overall better quality of life.
Smooth the Way to Your Independence
While not a 'one-size-fits-all', the following 3 tips are proven strategies that help soften the blowing the various phases of recovery throw at you. Ultimately, lead you to a life of positive practices that will replace the conditions and substances you seek to avoid.
All of these common-knowledge practices seek to establish harmony in and between the brain and the body. When the 'mind-body' connections are performing at their best, you will have the greatest chance at overcoming your struggles.
Start Your Addiction Recovery Tips
Meditate Daily – Research continues to show how sitting quietly for periods of time with a focus on 'present moment' sensations like breathing can allow for greater focus, clarity of thought, and self-regulation. Start at 5 minutes and work to 20 minutes daily.
Exercise Daily – One of the best ways to control and improve functions of our brain chemicals (neurotransmitters) is to do vigorous exercise daily. Get your heart rate up, do resistive and high-intensity activities, and, most importantly, move daily!
Eat Smart: Eat whole foods. Eliminate refined and processed foods (i.e. anything in a bag, box, or can). Increase healthy fat and protein intake, limit sugar intake (sugar can be as addictive as heroin or cocaine), and stay well hydrated (that means water).
Stay tuned for Part II of II where we will go over the next Start Your Addiction Recovery 3 tips.
Find Out if Brain Rehabilitation Can Help
Get your questions answered and understand treatment options by one of our board-certified physicians with extensive functional neurology experience.
Consultations are free, 15-minute phone calls, scheduled Monday through Friday.
The Obesity and Disability Connection Disability and obesity are often considered two separate ...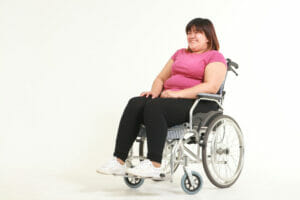 The Obesity and Disability Connection Disability and obesity are often considered two separate issues, but they are actually ...
Schedule a free, confidential consultation with one of our board-certified physicians.