6 Ways to Keep Your Brain Healthy this Thanksgiving
The holidays are a time of celebration, family gatherings and, most importantly, feasts. This Thanksgiving season sets the tone for the remainder of the year and typically consists of overindulging, sedentary lifestyle, and overly ambitious goals when the new year arrives. Make it a Brain Healthy Thanksgiving with the right mindset for yourself and your family and set yourself up for success. The following are great guidelines to consider when planning your spread:
Low Glycemic Index

When you consume any carbohydrate, the body breaks it down into simple sugars. This causes a spike in blood sugar and can have negative effects on your brain and body health. In diabetic patients, nerve pain called neuropathy is a common side effect of continuous spikes in blood sugar. Damage also occurs to nerve cells in the brain! Glycemic index is determined by how fast the food is digested and converted to blood sugar – the lower, the better. A great substitute this Thanksgiving for mashed potatoes would be sweet potatoes, winter squash, or cauliflower as these are lower glycemic foods that do not spike your blood sugar as rapidly as regular potatoes.

Cooking Methods

Variables to consider include cooking duration, heat level and consistency. Temperature matters as well; whether you are choosing to roast, bake, or fry. To lower the glycemic index of any carbohydrate, try steaming your vegetables instead of roasting or frying them. The same goes for how you prepare the carbohydrates. For example: mashed, diced and whole potatoes all have different glycemic indexes. If you choose to use potatoes, keep them whole and baked instead of mashed.

Sugar Alternatives

Instead of using refined sugar or corn syrup, substitute with natural sweeteners such as honey. Corn syrup has been shown to negatively affect memory and learning, two very important components of proper brain function. Honey is also a lower glycemic index food than refined sugar because it contains fructose, which is broken down more slowly by the body. Additionally, there are many health benefits of using local honey. Not only is it known to help with controlling seasonal allergies, but also has high amounts of antioxidants and essential vitamins such as B and C.

Limit Gluten

Gluten is inflammatory for almost every single one of us. The grain we consume today is not what you would've bought at the store 10 years ago. We have combined multiple proteins so the body no longer recognizes them and will attack them. Therefore, there is a continuous rise in gluten sensitivity and celiac disease, which is an autoimmune condition (i.e. body attacks itself!). Not only does gluten affect the passageways in the gut leading to a "leaky gut", but it also affects our cerebellum – responsible for coordination, balance and cognition. There are many healthier alternatives available, such as almond or coconut flowers.

Reduce Dairy

For those with dairy sensitivities who experience bloating, joint pain, and headaches, try alternatives such as almond or cashew milk instead of cows' milk. Many individuals used to substitute with soy milk, but we now know the impact it has on estrogen levels in males and females. Hormones impact brain function.

Consume Healthy Fats

If roasting the turkey or vegetables, use olive oil instead of canola. Olive oil contains antioxidants that fight free radicals and stresses to the body caused by our environments such as pollution, pesticides, and metal toxicity. Some studies support the use of extra virgin olive oil on halting the progression of aging of the brain. Additionally, olive oil contains anti-inflammatory properties which can help with overall brain function and aid in brain recovery from TBI, cognitive impairment, and more.
Parting Words
Lastly, and likely most important of all, "Stuff the Turkey, Not Yourself". Over-consumption of calories is one of the biggest problems we face as a society. Excess caloric intake requires the body and brain to exhaust resources that would be normally using for healing. Plus, if you don't use the calories you take in, they go right to belly fat – an accurate predictor of heart disease, diabetes, and more.
Be safe, be healthy, be thankful and make it a Brain Healthy Thanksgiving – and contact us for more information on metabolic and nutritional therapies!
Find Out if Brain Rehabilitation Can Help
Get your questions answered and understand treatment options by one of our board-certified physicians with extensive functional neurology experience.
Consultations are free, 15-minute phone calls, scheduled Monday through Friday.
The Obesity and Disability Connection Disability and obesity are often considered two separate ...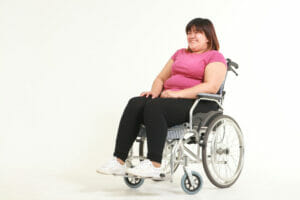 The Obesity and Disability Connection Disability and obesity are often considered two separate issues, but they are actually ...
Schedule a free, confidential consultation with one of our board-certified physicians.