The Importance of Early Screening for Alzheimer's, Dementia, and Cognitive Decline. Brain decline is one of the most common fears of people over the age of 50. While Americans are living longer and longer today, the quality of our extended years is all too often reducing by memory loss, confusion, lack of focus, and other dementia symptoms. The increase in numbers of people with Alzheimer's disease and other forms of dementia (Visit the Alzheimer's Association for more Facts and Figures) means that too many of us have too little "life" in these extra years of living. Memory loss and cognitive decline are beyond epidemic proportions, as 1 in 3 senior citizens will die with Alzheimer's.
Though these numbers are alarming, there are steps that people can take to alleviate their fears about dementia. Early testing is key. We offer cognitive screening to anyone who is concerned about brain decline at our office in Asheville. Join the growing ranks of boomers and seniors who are taking their brain health seriously and doing everything they can to ensure they live as healthily and happily as they can well into their golden years.
Why Early Screening for Cognitive Decline is Important
The Importance of Early Screening detection of memory loss and cognitive decline is of the highest order of importance! The sad reality is, who are presenting for cognitive evaluation put it off for some time, many waited too long. If discovered early, many of these conditions can be radically improving allowing for a more fulfilling life.
What follows are 4 research-backed methods we utilize to assess your brain to determine risk for cognitive decline or dementia. Time is of the essence in discovering conditions and cognitive screenings serve as a beacon for problems that present themselves:
Cognitive Testing: We can accurately measure various aspects of memory, attention, and other factors of higher-level thinking that can help us determine what parts of the brain are most affected by trauma, age-related cognitive decline, etc. While most tests and resources are geared towards determining the severity or rating of cognitive impairment (Learn more from Bart Sheehan's Brain Assessment Scales in Dementia article), it is our firm belief that many standardized tests of brain function can be utilized as proactive indicators of function.
Smell Testing: Research has supported the fact that smell is a "canary in a coal mine" when it comes to dementia and cognitive decline. That is why a decline in a person's ability to perceive odors can be a warning sign of the disease. Recent research from the University of Florida demonstrates that smell testing can actually predict Alzheimer's incidence.
Balance Testing: Another key biomarker for higher brain function is balance. The ability to resist gravity on two legs plays a large part in the higher brain functions as humans experience. Recent scientific research published in the journal Frontiers has helped practitioners gain a greater understanding of the connection between balance, memory, and other cognitive processes.
Eye Movement Testing: It is sometimes said that the eyes are the windows to the soul, but in reality, they are the windows to the brain. The connection between eye movements and cognition has been widely studied. The ability to move our eyes is directly related to higher brain function. Simply put, slow eye movements, fast eye movements, holding of gaze.
Our brain is our most sensitive and most complex organ. When the brain is in decline, early intervention is critical. All of the above-mentioned strategies are just a sampling of what we look at.  When assessing those with suspected cognitive decline.  Simply looking to boost their brain performance. That we can in fact help add "life" to our years – The Importance of Early Screening!
Find Out if Brain Rehabilitation Can Help
Get your questions answered and understand treatment options by one of our board-certified physicians with extensive functional neurology experience.
Consultations are free, 15-minute phone calls, scheduled Monday through Friday.
The Obesity and Disability Connection Disability and obesity are often considered two separate ...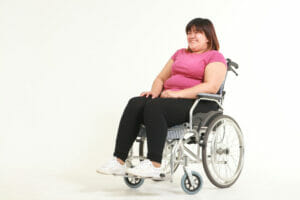 The Obesity and Disability Connection Disability and obesity are often considered two separate issues, but they are actually ...
Schedule a free, confidential consultation with one of our board-certified physicians.