Love…Between the Ears
Testosterone, estrogen, dopamine, serotonin, adrenaline, oxytocin, and vasopressin…
Hormones have everything to do with all phases of love, from attraction or 'love at first sight' to long-term relationships.
The deeper bonding you may be in dictates what chemicals will be present and in what amounts. Also, factors such as gender and overall physical and mental health play a role in what stages of love one are (or aren't) is based on the nature and quantity of chemicals produced Love…Between the Ears.
In general, earlier stages of attraction are dominating by adrenaline and dopamine; which account for behavioral traits of being clumsy and tongue-tied due to stress responses encountering your love interest with the former, and having increased focus and energy with the latter. Serotonin is what can get you into trouble as this is what causes you to focus on your attraction more than anything else. Very similar to the decrease in serotonin levels observed in those with obsessive-compulsive disorder (OCD).
The latter stages of attachment and deeper bonding are orchestrating primarily by oxytocin and vasopressin; although other factors are present at all stages in varying amounts, depending on the level of attachment and continued attraction. Oxytocin has been called the "cuddle hormone" and is an integral part of bonding between couples, mother and child,  dogs and their humans.  (our four-legged friends produce this when they see their favorite person). Vasopressin has been showing to enhance interpersonal relationships through positive communication.
So, while we don't want to dissect this most natural of emotions too much during the Valentine's Day season. A basic understanding of the brain chemicals discussed and the many influences upon them. (e.g. diet, exercise, stress, sleep, environmental factors, brain injury, mental health disorders, etc.). For you to better understand how you view the world and how it views you through the "eyes of love".
Find Out if Brain Rehabilitation Can Help
Get your questions answered and understand treatment options by one of our board-certified physicians with extensive functional neurology experience.
Consultations are free, 15-minute phone calls, scheduled Monday through Friday.
The Obesity and Disability Connection Disability and obesity are often considered two separate ...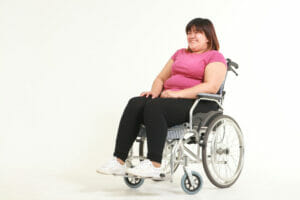 The Obesity and Disability Connection Disability and obesity are often considered two separate issues, but they are actually ...
Schedule a free, confidential consultation with one of our board-certified physicians.