Case Study: Post-Concussion Syndrome ( Jackie's Story )
At the time of presentation to APEX Brain centers in Asheville, NC in late 2015, Jackie was a 55-year-old, soon-to-be-retiring professional female. Post-concussive symptoms of debilitating headaches, memory loss, learning, and behavioral issues, fluctuations in heart rate, and difficulty handling visual stimulation such as driving, busy public places, and computer screens were preventing her from leading a normal life. Before traveling to APEX from Charlotte, NC, Jackie had sought care from several different doctors in her area. Vestibular therapy and chiropractic care had given her some relief of symptoms, although her other experiences were not so positive. At one point a provider told her that she was mentally ill. I didn't have any of these symptoms before I had the injury and I am not making them up". This is the unfortunate reality of many who suffer from brain injury.
Intervention for balance and cognitive decline
Jackie underwent comprehensive Brain Training at a frequency of 3 times per day over 15 days (each week for much-needed). Her brain function was carefully monitoring throughout the training process with measurement of EEG brainwaves, vital signs, eye movements, balance, mental and physical timing, and more to ensure she was receiving the proper amount of therapy to be effective without exceeding fatigue limits that could potentially promote worsening of her symptoms. Modalities implemented included but were not limited to neurofeedback, Interactive Metronome, vestibular rehabilitation, metabolic/nutritional therapies, eye movement, and neurological rehabilitation, electrical stimulation, breathing exercises, and home care therapies.
Outcomes after Brain Training
Jackie reported before brain training that she would have a constant headache of 6 on a 0-10 scale pain. The week after her program she reported the headaches were finally manageable at a level of 3-4 of 10 escalate. Jackie has had continued success and reported at 3 weeks after her program that she is headache-free unless she spends too much time in front of a screen or a busy public place. She also reports that when this occurs, her 'at at home' brain exercises will relieve them. Aside from headaches, Jackie has reported that she no longer feels like she is in a constant brain fog. Her heart rate has also normalized and no longer fluctuates or spikes.
Actual, measurable objective improvements recorded with post-intensive diagnostic testing include:
Cognitive Testing: Jackie showed an increase in her Neurocognition Index of 11%. This is a standardized overall score of cognitive performance. Significant improvements in specific areas of memory (one of her biggest concerns) are as follows: 65% in composite memory.
Interactive Metronome: 56% improvement in motor timing accuracy and normalization of hyper-anticipatory timing tendency with motor tasks (i.e. premature response to a specified reference tone).
Videonystagmography (VNG): Significant improvements in numerous aspects of oculomotor (eye movement) functionality including gaze holding, slow and fast eye movements, optokinetic responses, and spontaneous/involuntary eye movements.
Implications for others:
Diagnostic and functional tests can be used to direct an effective Brain Training program and improve post-concussion symptoms. Increased sensory and environmental sensitivities are common symptoms of post-concussion syndrome. There are several areas of your brain that process information from your environment and your body. Most cases of concussion are given a thorough investigation and functional interventions addressing the physical, cognitive, metabolic, and brain health.
If you or someone you care about is experiencing ANY of these symptoms, or anything out of the ordinary related to a head or brain injury, call APEX Brain Centers now at 828.708.5274. You may also email us at info@ApexBrainCenters.com for more information and to set up a free consultation.
Find Out if Brain Rehabilitation Can Help
Get your questions answered and understand treatment options by one of our board-certified physicians with extensive functional neurology experience.
Consultations are free, 15-minute phone calls, scheduled Monday through Friday.
The Obesity and Disability Connection Disability and obesity are often considered two separate ...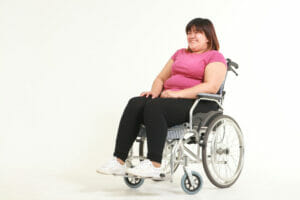 The Obesity and Disability Connection Disability and obesity are often considered two separate issues, but they are actually ...
Schedule a free, confidential consultation with one of our board-certified physicians.