Are You an Athlete Who Could Benefit from Brain Training? – Whether they are running, cycling, swimming, auto racing, playing ball sports, or participating in weekend warrior contests; athletes of all shapes, sizes, and abilities have one thing in common. They all want to WIN!
The road to excellence in sports has changed quite a bit over the past several decades. The vehicles that bring athletes to their peak today look nothing like the horse and buggies that used to get them there. Sports performance is a high-tech, fast-paced, ultra-competitive industry where new advances in training the human body are popping up around every corner, in every discipline.
Today you may commonly choose to enhance your athletic performance through strength, agility, and endurance training specific to your sport, metabolic therapies, and possibly indulge in cross-training and sports psychology therapy. But something is missing from this list. Something BIG. Something that could make all the difference in the world. Brain Training can help you achieve peak athletic performance. Training your brain to perform at a peak level is shaping up to be the biggest, and likely most important, aspect of training for ANY athlete. Brain Training can also amplify the effects of other training methods.
If you answer yes to any of the following questions. Then you are ready to take the next step in your athletic training program:
1)     Do I want to be faster?
Most sports require speed and endurance, and training your brain to be faster can be a game-changer. Balance, coordination of movement, core stabilization (shunt muscles), and voluntary movement (spurt muscles), all controlled by your brain, are key factors in determining how fast your muscles will move your body. The more "tuned-up" these systems are, the faster you will be.
2)     Do I want to increase my reaction time?
Advanced applications like the Interactive Metronome were designed to improve timing abilities in key areas of the frontal lobes of your brain that govern your ability to react appropriately to stimulation coming from your environment (i.e. sight, sound, etc.). Training your brain's ability to react to various types of stimulation, and to block other types out. Can significantly speed up your reaction time and overall accuracy of thought and movement.
3)     Do I want to improve my focus?
Focus, Flow, Concentration, The Zone… whatever you prefer to call it… is one of the most complicated of all brain abilities, and very likely the most crucial brain function. When it comes to success at sports. Many abilities come together to create focus, most notably vision combined with your brain's attention network. These abilities CAN be training to achieve higher levels of concentration and attention. This is what creates the effortless focus on the task at hand – The Zone – that most athletes crave.
4)     Do I want to outsmart my competition?
Training various aspects of memory, essentially increasing your intelligence, will provide invaluable assistance when stacking up against your competition. Working and procedural memory can be improved through intensive Brain Training programs that combine "brain games" and metal tasks with physical exercises and various types of sensory input shown to improve cognitive abilities.
5)     Do I want to decrease my risk of injury?
The brain controls your muscles as well as the tone of your tendons and ligaments. Muscles, tendons, and ligaments that are controlled by a well-functioning brain are more resilient, faster to respond, and less likely to be injured. Training brain-body connections are critical for any high-performance athlete that wants to stay off the sidelines – Are You an Athlete Who Could Benefit from Brain Training?
Find Out if Brain Rehabilitation Can Help
Get your questions answered and understand treatment options by one of our board-certified physicians with extensive functional neurology experience.
Consultations are free, 15-minute phone calls, scheduled Monday through Friday.
The Obesity and Disability Connection Disability and obesity are often considered two separate ...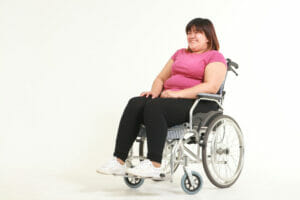 The Obesity and Disability Connection Disability and obesity are often considered two separate issues, but they are actually ...
Schedule a free, confidential consultation with one of our board-certified physicians.