Train Your Brain to Pass the Bar Exam – Experts suggest that you study for the bar no less than 8 hours a day, 6 days a week for the full two-month period between law school and date of the exam. The good news is that intensive study is not the only method you can use to prepare your brain to pass the bar exam. Just as you exercise your body to train for a marathon, you can exercise your brain to train for the bar exam.
The bar exam can be seen as a mental marathon. Over the course of this grueling two or three day exam you will answer 100 to 200 national Multistate Bar Examination (MBE) questions and write multiple in-depth essays drawn from a wide range of legal topics, including:
Contracts and sales
Wills and trusts
Equity
Torts
Criminal law and procedure
Constitutional law
Civil procedure
Real property
Family law
Professional ethics
A bar exam prep course will give you access to the information you need to know, but your brain's ability to absorb, process, and apply that knowledge will ultimately determine how well you perform on the test.
Brain Training Exercises for Bar Exam Prep
Scientific research has repeatedly shown that the brain is capable of growth and change, a concept called neuroplasticity. Cutting edge Brain Training strategies, such as qEEG directed neurofeedback and Interactive Metronome training, are designed to help you boost your cognitive performance by changing the structure and function of the brain in beneficial ways.
Brain Training can increase your mental and physical abilities in the following ways:
Improved memory
More efficient information processing
Enhanced focus and attention
We have seen in our own practice that you can improve on what you are already doing. No matter what level of performance you are at currently. It is never too early to begin preparing your brain to achieve success on the bar exam. APEX Brain Centers offers multiple resources and customized Brain Training for test preparation. Contact us today to find out more about how APEX Brain Centers can help you pass the bar exam and achieve your academic and professional goals – Train Your Brain to Pass the Bar Exam!
Find Out if Brain Rehabilitation Can Help
Get your questions answered and understand treatment options by one of our board-certified physicians with extensive functional neurology experience.
Consultations are free, 15-minute phone calls, scheduled Monday through Friday.
The Obesity and Disability Connection Disability and obesity are often considered two separate ...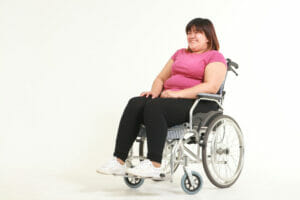 The Obesity and Disability Connection Disability and obesity are often considered two separate issues, but they are actually ...
Schedule a free, confidential consultation with one of our board-certified physicians.