Drugs, cigarettes, alcohol, sex, gambling, food, and shopping are just a few of the most common behaviors and substances that people can become addicted to. Why is it that some people never develop addictions while others give up nearly everything (including their lives) because of them? The answer lies in the wiring of the brain, and a new form of addiction therapy is available.
Addiction is a Disease of the Brain
While the American Psychiatric Association defines addiction as a chronic brain disease that causes compulsive substance abuse, the exact cause of this disease (whether your brain is wired for addiction because of genetics or environment) is still being debated. But one thing is certain—our environment impacts the way our brains work (for better or for worse). How we live has an incredibly powerful influence on the way our genetic tendencies are expressed. More simply put, what you think, consume, and do will determine the severity of your addiction.
Most individuals with addiction also suffer from other disorders including ADHD and OCD. The same brain regions are involving in most of these conditions, including addiction. Whether developmental in nature, related to injury, or otherwise, there is most often measurable compromise in cognitive networks in the brain that deal with attention, motivation, memory, impulse control, decision making and reasoning.
Neuroplasticity Offers Hope for Addicts
The tenets of neuroplasticity – the brain's ability to change and grow based on its environment and experience – dictate that we can in fact change function in the key brain regions related to addiction. Add to this the ever-growing body of research on the impact of physical abilities such as balance and eye movements on cognitive function, and we now have a host of methods to address the impact of environmental factors on addiction.
The Brain Training Approach to Addiction Therapy
Brain training is one method of rewiring the brain that offers hope to those suffering from addiction. Neuroplasticity is the core concept that brain training exercises are based upon. Even in the case of addiction, you can change your brain function for the better. What follows are four brain training approaches to rewiring the addicted brain.
Brainwave Regulation: Delta, Theta, Alpha and Beta are some of the brainwaves that can be measured and trained in individuals with addiction. Through the use of quantitative EEG (qEEG), we are able to map the brain and determine where common patterns of dysfunction seen in addiction exist. Neurofeedback and other modalities, such as transcranial magnetic stimulation – rTMS, are the vehicles through which dysfunctional addictive patterns are broken and healthier brainwave activity established.
Eye Movement Re-Training: The eyes are more than a window to the soul. Eye function can reveal a lot about your level of attention, impulse control. And other higher cognitive functions within the brain. Recent research from Tel Aviv University demonstrates how involuntary eye movements are accurate predictors of ADHD, the most common condition that occurs along with addiction. Eye movements can be measuring and effectively rehabilitated; leading to improvements in impulse control, attention, and, ultimately, addictive tendencies.
Vestibular (Balance) Therapies: Is there a connection between balance and addiction? Absolutely! Over the past half-century or so. A recent paper in Frontiers in Integrative Neuroscience explores the connection between the vestibular system (which regulates balance) and cognition. As with many other biomarkers of brain function. Balance can be accurately measuring with a computerized assessment of postural systems (CAPS). Testing and correcting with a number of specific vestibular rehabilitation techniques.
Metabolic Therapies: Nutrition is often overlooking when it comes to addiction. However, addressing nutritional or metabolic imbalances can be a critical intervention for those suffering from addiction. Most with addiction have extremely poor dietary habits and their brain fuel is compromising. From malnutrition and dehydration to inflammation and neurotransmitter dysregulation, these problems can be detecting and corrected quite easily. Proper nutrition allows for a healthier brain and greater promise for recovery.
By targeting the underlying wiring issues that contribute to addiction, these approaches can increase the effectiveness of more traditional interventions. Such as cognitive and behavioral therapies and psychotherapy, or counseling.
Find Out if Brain Rehabilitation Can Help
Get your questions answered and understand treatment options by one of our board-certified physicians with extensive functional neurology experience.
Consultations are free, 15-minute phone calls, scheduled Monday through Friday.
The Obesity and Disability Connection Disability and obesity are often considered two separate ...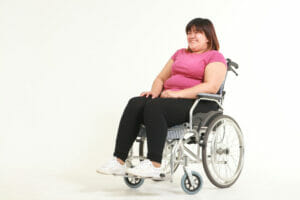 The Obesity and Disability Connection Disability and obesity are often considered two separate issues, but they are actually ...
Schedule a free, confidential consultation with one of our board-certified physicians.