The Current Situation – Great Cause for Alarm!
There has been a distinct disconnect between the "mind" and "brain" sciences when it comes to addiction, and what is looking at more and more as being at the root of addiction and substance use – learning and behavioral disorders. In her ground-breaking book, Unbroken Brain: A revolutionary new way of understanding addiction, Maia Szalavitz states:
"Our brains are embodied – much of the problem with the debate over addiction and psychiatry more generally is a refusal to accept this and our ongoing need to see "physical", "neurological", and "psychological" as completely distinct."
There is a fundamental flaw with this outdated thinking, a flaw that has in part led to skyrocketing heroin usage (especially among those ages 18-25) and overdose rates that have quadrupled since 2010[1]. According to the National Institute on Drug Abuse, illicit drugs cost the US nearly $200 billion annually, just behind alcohol and tobacco use ($224 and $295 billion, respectively)[2].
Clearly, things are getting worse, not better. Substance use is becoming harder than ever to treat given the broad scope of substances being used, increasing potency levels, rates of consumption, varied methods of delivery, decreasing age of usage, and the numerous learning and behavioral issues those with addiction have prior to onset that not appropriately treated (or, treated with medications that may lead to, or complicate, the addiction itself).
At the Root of the Problem
ADHD, anxiety, OCD, ODD, anxiety, depression, sensory processing disorders, schizophrenia, and PTSD are just some of the many learning, behavioral, and mental health disorders that cause people to seek balance in their life through the use of chemical substances. The long-held belief is that addiction is genetic and an inevitable consequence for the affected. Or that substance users are damaging and incapable of recovery, is beginning to dissolve. So are many of the tough love and shaming techniques that the norm across the addictions treatment arena for well over half a century.
Time for a Paradigm Shift
Understanding that learning dictates behavior and that impaired learning will lead to behavioral patterns. That will set the stage for addiction, is the first step in effectively dealing with substance use disorders. Most learning and behavioral challenges have physical and cognitive manifestations that can be measured (i.e. impaired eye movements, balance, timing, attention, memory, etc.), whether prior to or during the addiction recovery process[3].
Once these impairments are measured, there are a host of research-backed Brain Training modalities that can be implemented by qualified professionals for the correction of deficient function. This will lead to more effective remediation of the learning or behavioral disorder, and, ultimately. The seeking of normalcy through chemical dependence is the hallmark of substance use disorders.
Brain Training for Addiction and Substance Use Disorders
Brainwave Optimization – Better known as neurofeedback (NFB), neurobiofeedback, or Neurotherapy. NFB, while available since the 1950s, has gained significant popularity in the recovery arena as of late. That signal a more desirable or efficient state of function within the brain has obtained.
Training of Brain Timing – Temporal processing is the rate at which sounds can be processing in the brain. When one is unable to process at sufficient and accurate rates, learning will be impairing and behavior impacted. Programs like the Interactive Metronome® have shown to improve learning capacity, attention, and focus. And decrease destructive impulsive and repetitive behaviors.
Training of Balance – The balance (vestibular) system, which is made up of structures in the inner ear and is directly influenced by systems of vision, posture, and hearing, is directly plugged into our frontal brain[4]. This more "human" part of our brain has a profound influence on learning. And behavior and is positively impacting by improvements in balance and coordination.
Training of Eye Movements – Fixating on a target in your visual field, moving your eyes slow or fast, watching an object move closer or further away, and certain inborn eye reflexes help to make us uniquely human. Many of the control centers of these functions live in our frontal brain. Correction of certain faults in eye movements can lead to improved cognitive abilities.
Neurological Rehabilitation – While training of balance and eye movements fall into this category, they have given separate explanations given their heavy influence on learning and behavior. Complex motor skills, whole-body vibration, electrical stimulation, strength and conditioning, smell and sound therapies. And so much more impact the brain in a positive way to minimize the effects of learning. And behavioral issues in one's life.
Metabolic Therapies – To address brain function without paying mind to the numerous nutritional and metabolic factors that go into a properly functioning brain is akin to throwing a bunch of random ingredients together and hoping it turns out like your favorite dish. Blood sugar, stress hormones, neurotransmitters, micronutrients, food allergies. Among countless other factors, are just a sampling of what can be evaluating, and in many cases corrected. Via dietary shifts and nutraceutical intervention.
A New Era for Addiction and Substance Use Disorders
While mental health therapies have been, and always will be, an integral component of a sound addiction recovery strategy; It is abundantly clear that what is in fact needing is scientific. Evidence-based strategies to address the underlying learning and behavioral issues that are the hallmark of any addiction profile. What is needed is Brain Training… To measure and manage numerous 'biomarkers' of brain function with sophisticated diagnostic testing. And effect positive change in these markers through progressive neurological training modalities. This, in concert with the more traditional mental health options. This is what holds the greatest hope for recovery in those battling addiction and substance use disorders!
[1] https://www.cdc.gov/drugoverdose/data/heroin.html
[2] https://www.drugabuse.gov/related-topics/trends-statistics
[3] https://apexbraincenters.com/blog/5-important-tests-to-consider-when-seeking-treatment-for-addiction/
[4] http://journal.frontiersin.org/article/10.3389/fnint.2014.00059/full
Find Out if Brain Rehabilitation Can Help
Get your questions answered and understand treatment options by one of our board-certified physicians with extensive functional neurology experience.
Consultations are free, 15-minute phone calls, scheduled Monday through Friday.
The Obesity and Disability Connection Disability and obesity are often considered two separate ...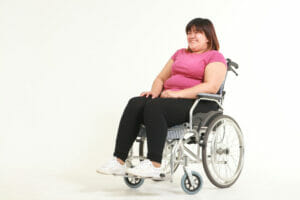 The Obesity and Disability Connection Disability and obesity are often considered two separate issues, but they are actually ...
Schedule a free, confidential consultation with one of our board-certified physicians.