Addiction Testing or, more appropriately, substance use disorder (SUD) is defining as one's recurrent use of drugs and/or alcohol. This impairment may be reflecting in the areas of physical and mental health, employment, school, relationships, finances, and more.
5 Important Tests to Consider When Seeking Treatment for Addiction
One thing is for certain – the vast majority of those struggling with SUD also have underlying challenges with learning and behavior and may have one or more mental health disorders. While the reasons for these underlying challenges are likely as many as the number of challenges themselves, this shifting of perspective away from the genetic view of addiction offers great hope for those seeking progressive therapies that, in many cases, can have a profound impact on the underlying disorders and the problem behaviors and outcomes associated with SUD.
Newer thinking also dictates that addictive tendencies can be due to factors such as concussion and traumatic brain injury. And let's not forget stress…
In order for progressive brain-based modalities delivering effectively, which provide a tremendous complement to standard mental health strategies implemented. One needs to understand that SUD is not a disease we would normally think (e. g. cancer, Parkinson's, etc. ). SUD can affect anyone… of any class, race, gender, and ethnicity.
SUD is in fact a 'brain problem' that, in many respects, can be measured and needs to be approached. Let us consider 5 areas of measurement related to brain function that reveal a deal about learning, behavior, mental health:
Brainwave Activity (EEG) – In our brain, we have networks related to attention, vision, sensations, relaxation, emotions, vital functions, and more. How much delta, theta, alpha, beta, and gamma brainwave activity we have under different circumstances dictates how well various parts. Quantitative EEG (qEEG) is gaining popularity in select mental health circles as an extremely viable diagnostic tool that can enable us to peer into the inner workings of the brain and these brain networks that make us uniquely human.
Cognitive Testing – Executive function, cognitive flexibility, simple and complex attention, and processing speed are just a few of the tests of higher cognitive function that can reveal a great deal about how one's brain interacts with its environment. They are excellent diagnostic tools for monitoring progress when treating the various subsets of learning and behavioral issues underlying SUD.
Metabolic Function – Blood sugar, amino acids, urine organic acids, food antibodies, heavy metals, environmental toxins, hormones, neurotransmitters, vital nutrients, genetic variants, and so much more are a mix of both classic and progressive 'biomarkers' of brain function. How our bodies handle fuel, utilize nutrients, process hormones. React to toxins in our environments determines how well our brains handle what is presented to them on a moment-to-moment.
Eye Movements – Generally ignored in the mental health arena from a diagnostic perspective, eye movements of all types are directly related to the brain regions that control them. From primitive abilities to find visual targets that involve parts of the brainstem and emotional centers like the amygdala fear; eye movements deliver a wealth of information related to SUD and its underlying causes. Videonystagmography (VNG) is one type of diagnostic tool using to measure these types of functions.
Balance and Coordination – More and more, addiction testing-based programs are implementing movement-based activities such as Tai Chi and yoga. From both balance and relaxation standpoints, there is good reason to do so. Our sense of self is largely influencing by our ability to physically interact with our environment. Measurement tools such as dynamic posturography and standard tests of movement and coordination can be utilizing to measure these abilities.
The inherent beauty of any of these tools, that can reveal a wealth of information about cognitive, behavioral, and mental functions, is that they can in turn be utilized to track progress when one enters into a collaborative treatment program with their mental health specialists and qualified functional neurologist. The blending of the 'brain' and the 'mind' sciences is long overdue and is proving to be clinically effective.
Find Out if Brain Rehabilitation Can Help
Get your questions answered and understand treatment options by one of our board-certified physicians with extensive functional neurology experience.
Consultations are free, 15-minute phone calls, scheduled Monday through Friday.
The Obesity and Disability Connection Disability and obesity are often considered two separate ...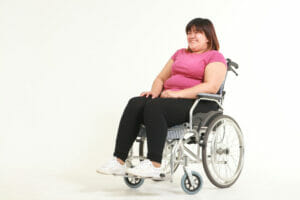 The Obesity and Disability Connection Disability and obesity are often considered two separate issues, but they are actually ...
Schedule a free, confidential consultation with one of our board-certified physicians.