Day of Discovery Brain Assessment 
Is your brain not working as it used to?
Have you been struggling with a recent or lifelong brain performance issue that you want answers for?
Or, do you simply want to know how well your brain is working to ensure it is serving you optimally?
If you knew there was something you could do to tell, would you do it?
    APEX Brain Centers' comprehensive 'Day of Discovery' 8-part brain assessment is just what you've been looking for.
What is it?
The Day of Discovery is an extremely valuable and critical investment in your health, longevity, and prosperity. Fear of a declining brain is one of the top issues of our time, and this unique opportunity puts the power of informed guidance in your hands to make the best choices possible for your brain and body health. By investigating numerous 'biomarkers' of brain health and efficiency, we can connect the dots between your experience of life and your current state of brain and body function.
Your Day of Discovery includes the following 8 components:
Comprehensive history and review of previous diagnostic testing
Comprehensive neurological exam looking at functions of the brain, spinal cord, and peripheral nervous system
Quantitative EEG (qEEG) for measurement of brainwave activity
Cognitive testing to assess memory, attention, executive function, and more
Video-Oculography (VOG) for detailed assessment of eye movements
Dynamic posturography for investigation of multiple aspects of balance
Interactive Metronome testing of mental and physical timing capabilities
Review of all testing with precise recommendations for appropriate intervention
What should I expect and how do I prepare?
Your Day of Discovery will take anywhere from 4-6 hours depending on physical ability, levels of fitness and fatigue, technical factors, and any unforeseen circumstances. You will spend the day in our office and should pack a healthy lunch and snacks depending on the time of day. You should try your best to obtain quality sleep. Refrain from alcohol, recreational drug, or cigarette intake, maintain adequate hydration, eat a healthy breakfast the morning of testing, bring copies of any pertinent diagnostic tests with you, be on time to ensure the smoothest of transitions throughout the day, not wear any skincare products, make-up, or hair gel, and bring a positive and proactive attitude with you as this day is designed to empower you with critical information to help you create positive change in your life.
What Next?
Call us today at 828.708.5274 to set up your Day of Discovery, or email info@ApexBrainCenters.com for more information.
Find Out if Brain Rehabilitation Can Help
Get your questions answered and understand treatment options by one of our board-certified physicians with extensive functional neurology experience.
Consultations are free, 15-minute phone calls, scheduled Monday through Friday.
The Obesity and Disability Connection Disability and obesity are often considered two separate ...
Posted in
Brain Health
,
Academic Performance
,
ADD and ADHD
,
Addiction Recovery
,
Anxiety
,
Athletic Performance
,
Brain Injury
,
Brain Mapping
,
brain rehabilitation
,
Brain Training
,
Cognitive Performance
,
Concussion
,
Dementia and Alzheimer's
,
Depression
,
General Brain Health
,
Improve Memory
,
Intensive Brain Training
,
Interactive Metronome
,
Memory Loss
,
Mental Health
,
mild traumatic brain injury
,
Neuropathy
,
Neuroplasticity
,
OCD
,
Peak Performance
,
Post-Concussion Syndrome
,
PTSD
,
qEEG
,
Sports
,
Substance Use
,
TBI
,
Vertigo and Dizziness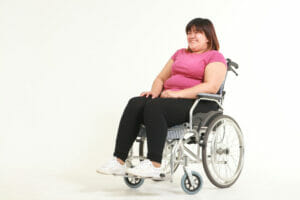 The Obesity and Disability Connection Disability and obesity are often considered two separate issues, but they are actually ...
Schedule a free, confidential consultation with one of our board-certified physicians.