Just like you would want (or may not want) to know your weight, blood sugar, blood pressure, cholesterol levels, and more; alpha peak frequency (APF) is a direct marker of your brain's ability to process information. Or, better said a direct marker of brain performance. And, it's easy to measure!
What is APF? 
As part of the posterior dominant rhythm (PDR) of your brain. Which is your brain's dominant electrical output. Moreover, APF is a direct measure of your brain's ability (or inability) to process information.
How does it tell us about brain performance?
Alpha brainwave activity, one of 5 primary brainwaves (electrical pulses created in the outer covering or cortex of our brain), is measured at a speed of 8-12 Hz (cycles per second). Moreover, This means that for every second of EEG (electroencephalograph) recording, there would be 8-12 peaks or pulses visualized.
In a nutshell, the slower (more like 8 Hz) your alpha brainwaves are, the more they resemble sleep-like brainwaves of the theta range. Furthermore, the faster (more like 12 Hz) your alpha brainwaves. The more they resemble your faster-processing brainwaves in the beta ranges. Ex: better able to solve problems. Interact with others, perform work duties, etc.
Tip #2 – The latter (more like 12 Hz) is where you want to be for optimal brain performance!
What does it mean?
As with many functions in the human body and brain, there is a natural ramping-up and eventual decline in function or activity from birth through our advanced years.
Alpha brainwaves and APF start up very slow at approximately 4 Hz (well below typical alpha activity) at several months of age. By ages 3-5, APF is firmly establishing at approximately 8-10 Hz!
Depending on our level of cognitive engagement throughout our life. Coupled with the countless environmental and lifestyle factors, injuries & disease, etc. That impacts each and every one of us; APF should remain strong (above 10 Hz) for many decades.  APF begins a natural decline in our years approaching and into retirement.
Tip #3 – This "natural decline" is not written in stone and does NOT have to happen!
How APF measured?
Very simply – and with no needles or uncomfortable, prolonged, and super-expensive testing procedures!
Typically, three or more electrodes are placed on your scalp to record the electrical output (EEG) of the cerebral cortex, our uniquely human brain. In the case of APF, therefore we pay very special attention to the back of the brain that sees and feels the world, as this is where alpha brainwave activity is generating.
Computer hardware in the form of amplifiers collect the electrical information from your brain and feed it through software filters and programs to determine what your predominant alpha speed (or frequency) is. Alternatively, on less advanced systems, Further, this can simply be measured on the EEG itself by counting how many peaks occur within one second of EEG data in several areas of the study.
Tip #4 – Get your alpha peak frequency measured by a competent practitioner of EEG and neurofeedback (NFB) that is well-versed in this valuable brain performance marker.
What can improve APF and brain performance?
What is the point in measuring something if you don't have a fair shake at improving it?
Let's first address some common factors that will negatively impact APF, as many of them are preventable or changeable.
Moderate to excessive alcohol use
Excess caffeine and nicotine
Poor sleep hygiene
Excessive technology usage
Opioid, benzodiazepines, marijuana, and other drugs
Head injuries
Poor nutrition
Uncontrolled stress
Sedentary behavior
Environmental toxins
Untreated depression, anxiety, OCD, PTSD, addiction
There are numerous advanced therapeutic applications that can assist in increasing APF, most notably in the realm of neurofeedback (first 5 listed):
Peak frequency training
Power training
SMR training
Alpha synchrony training
z-Score training
Pulsed electromagnetic frequency (pEMF)
Transcranial direct current stimulation (tDCS)
Meditation
Sensorimotor integration therapies
Cognitive therapies
Stress reduction and biofeedback techniques
Tip #5 (it's a biggie) – Don't wait (as most do) to address this key indicator of brain performance. This is well within your grasp (in most cases) to positively impact. Furthermore, We see clinically every day how many can, and do, improve their APF; and their quality of life. Call us now at 828.708.5274 or email info@apexbraincenters.com to learn more.
Find Out if Brain Rehabilitation Can Help
Get your questions answered and understand treatment options by one of our board-certified physicians with extensive functional neurology experience.
Consultations are free, 15-minute phone calls, scheduled Monday through Friday.
The Obesity and Disability Connection Disability and obesity are often considered two separate ...
Posted in
Brain Training
,
Academic Performance
,
ADD and ADHD
,
Addiction Recovery
,
Anxiety
,
Athletic Performance
,
Brain Health
,
Brain Injury
,
Brain Mapping
,
brain performance
,
brain rehabilitation
,
Cognitive Performance
,
Concussion
,
Concussion rehabilitation
,
Dementia and Alzheimer's
,
Depression
,
General Brain Health
,
Improve Memory
,
memory
,
Memory Loss
,
Mental Health
,
mild traumatic brain injury
,
Neurofeedback
,
Neuroplasticity
,
OCD
,
Peak Performance
,
Post-Concussion Syndrome
,
PTSD
,
qEEG
,
Recovery
,
Sports
,
Stress
,
Substance Use
,
TBI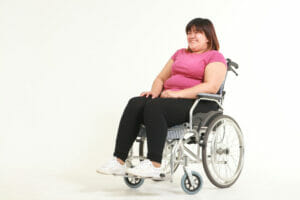 The Obesity and Disability Connection Disability and obesity are often considered two separate issues, but they are actually ...
Schedule a free, confidential consultation with one of our board-certified physicians.